Ultima actualización hace 2328 días por
Enrique Rubio
(ver también página OERs)
a "New report from the Open University on ten innovations in teaching, learning and assessment for an interactive world". It covers ten such innovations, some of which won't be a surprise to readers of this blog. They are:
Assessment for learning
Badges to accredit learning
Learning analytics
MOOCs
New pedagogy for e-books
Personal inquiry learning
Publisher led mini-courses
Rebirth of academic publishing
Rhizomatic learning
Seamless learning
You can read the full, nicely formatted, pretty pictured, report here, and make comments on any of the topics on the accompanying blog.
The intention is that it is an annual report, so we'll revisit next year. In the meantime, I hope you find something useful in it, and it might be the type of thing you can leave lying around on the desk of a senior management type person.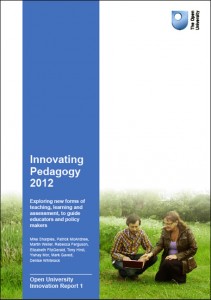 The series of reports explores new forms of teaching, learning and assessment for an interactive world, to guide teachers and policy makers in productive innovation.
The first report proposes ten innovations that are already in currency but have not yet had a profound influence on education. You can see a summary of each innovation at the menu on the right. Please contribute with comments on the report and the innovations.